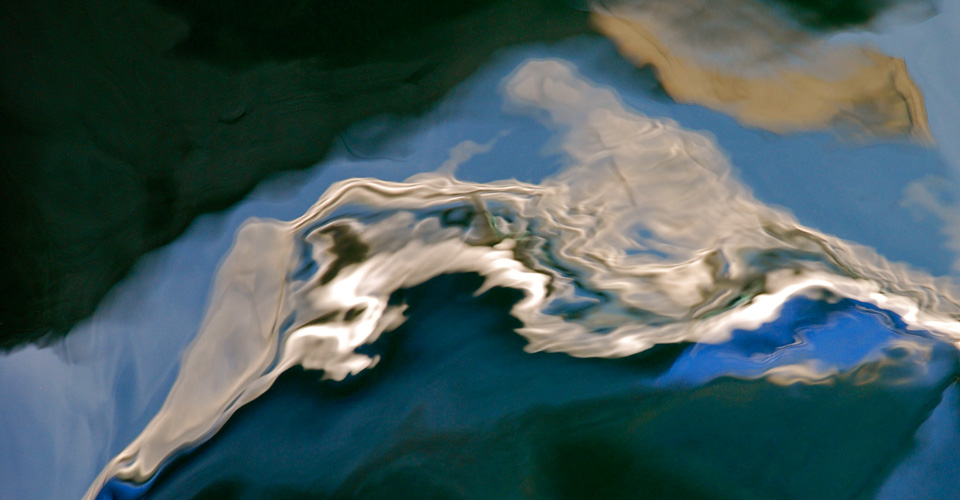 waterways concepts
A certain moment, a certain angle, a step forward, a step back: light, water, waves, windows, reflect a new world...
Much of Mark's work consists of micro perspectives of the ever-changing water reflections from waterways around Fremantle, Perth, Sydney, and around Australia. This obsession expanded to include city buildings reflecting off other buildings, especially in the late afternoon light, around Perth, Sydney and across Europe.
The Waterways collection represents over twently years of capturing naturally occurring images that are simply close-ups of reflections of light on the surface of shifting waters or city buildings.
Images represent first light, dawn, midday, dusk, sunset, and the dance of night lights, interpreting the reflections as 'waterscapes'. Sunlight and harbour lights, reflecting from fishing boats, yachts, buildings, trees, shrubs, and wharves, combine with wave motion and the breeze, to create infinite imagery ~ liquid realities of mythological wildfires, beasts, spirit forces and abstract vistas.
Strolling beside waterways, enjoying the scenery, taking a break from the rushing world, we are usually unaware of the hidden designs perpetually generated by changing angles of sun, water, waves, breeze, wharves, boats, trees and night lights. Rushing through cities we rarely look up; when we do, with each (careful) step, reflected shapes transform and inspire.
This collection of images can contribute to the way we see the environment, and could open eyes to an endless supply of natural and urban beauty. Viewers are encouraged to visit local waterways and wander beside the water and discover the world of reflections.
all images © 2010-2021 WATERWAYS ABSTRACT PHOTOGRAPHY
by mark pearson, sunshine coast, australia